Mail Us

hotdothk@gmail.com
 
MONTBELL WOMEN'S DOWN VEST LIGHT ALPINE 1101537
Product Description
The Light Alpine Down Series are our highly functional mid-layer's that flaunt characteristics essential for comfortable backcountry activity: aggressive warmth to weight ratio, while maintaining exceptional compressibility. The secret to the warmth of these garments not only relies on the high lofting 800 fill power goose down, but the inherent wind shedding ability of the 30-denier Ballistic® Nylon shell. By blocking a large percentage of wind, a relatively light layer is able to conserve the heat your body naturally produces. Designing outdoor clothing with warmth to weight ratio in mind is great, but we also like to think the Alpine Light pieces succeed when it comes warmth to dollar ratio.
Specs
Material: 20-denier Ballistic® Airlight rip-stop nylon [Standard DWR treatment・Antistatic finish]
Lining: 20-denier Ballistic® nylon taffeta [Antistatic finish]
Insulation: 800 Fill Power EX DOWN
Weight: 208g
Color: BLACK (BK), MIST (MIST), PURE INDIGO (PUID)
Size: XS, S, M, L, XL
Compressed size: ∅11×19cm

Features: Sewn through construction / Chin guard /
Draw cords for waist adjustment hidden in pockets / Zippered pockets / Stuff sack included
Details
About Ballistic Airlight

Ballistic Airlight is made using the same nylon polymer as our Ballistic material and a highly technical production process to create extremely fine, super thin threads. These threads are then woven into ultralight, gossamer fabrics that share the same characteristics as Ballistic: one and a half times more abrasion resistance than other similar weight fabrics and boasts three times the tear strength of nylons that are almost 20% heavier. Additionally, Ballistic Airlight is often woven using different techniques to create fabrics with radically different characteristics, such as fabrics that allow the garment to stretch or fabrics that "breathe" to release built up heat and moisture.
Goose and Duck Down Sourcing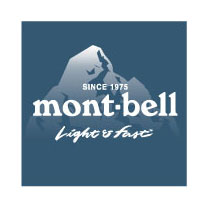 At Montbell, we source Down from both the European and Chinese markets to satisfy a variety of characteristics (supply/availability, low cost, consistent quality, humane practices, etc.) and maintain our lofty standards. Every season we seek to balance the superior quality for which we are known and the lowest possible raw materials cost. We change Down sourcing companies frequently to insure that our customers have access to superior products at the lowest price possible. In the course of these efforts, Montbell never purchases Down from operations that practice "live-plucking" methods. We only utilize Down plumes and feathers collected as a by-product of water fowl raised to meet the demands of the food industry.

We will continue to look for sources of Down that maximize value to our customers and allow Montbell products to perform at the highest level.
Stuff sack included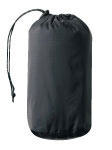 About the material: EX Down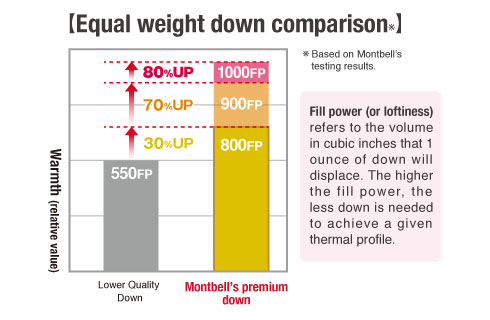 World class, high quality down
Montbell's premium down comes from water fowl that live in regions with seasonal temperature extremes. The down balls from birds in such regions are characteristically much larger.
Large down balls hold more warm air, which translates to needing less down to provide exceptional warmth retention.

Lightweight yet warm
When compared by weight to lower quality down, an equal amount of premium down is loftier and has better warmth retaining properties.
Sewn through construction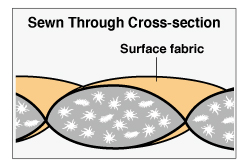 In sewn-through construction, stitch lines go from the exterior of the garment directly to the lining material to join the two layers, creating small pockets for down insulation. This simple method provides an economical way to keep down in place, while leaving the garment as light as possible.
About the material: Ballistic nylon

Ballistic nylon is one and a half times more abrasion resistant than other similar weight fabrics and boasts three times the tear strength of nylons that are almost 20% heavier. Because of this, Ballistic nylons have allowed us to reduce the weight of many of our products by more than 50% without sacrificing the durability. We create Ballistic nylons by heating and stretching nylon fibers. Much like Tensiled steel, this process aligns the nylon molecules in each fiber, dramatically improving the strength and stamina of the fabric.
Maintenance of Down Leakage Warning (38-102)
In the event that small feather spines or down clusters work their way through the fabric it is best to reach behind the fabric and pull the offending down cluster BACK INTO its down chamber. Gentle massage of the area will promote "self sealing" and re-align the fabric threads, while better distributing the down insulation. If at all possible avoid attempting to pull the cluster from the bag or garment. Doing so can cause the exposed cluster to tangle with others and draw them from the chamber.
Care Information
Washing Instructions
USE DOWN SPECIFIC DETERGENT
GENTLE CYCLE WASH WITH COLD WATER AND HANG IT TO DRY
IF YOU WISH TO USE A DRYER, PLEASE TUMBLE DRY WITH LOW HEATPATTING THE ITEM WILL HELP RESTORE LOFT TO THE DOWN
WASHING ONLY AT THE END OF SEASON SHOULD BE ENOUGHDO NOT WASH FREQUENTLY, IT MAY CAUSE FABRIC DAMAGE
16 other products in the same category: